Date: July 28, 2022
Categories: Ski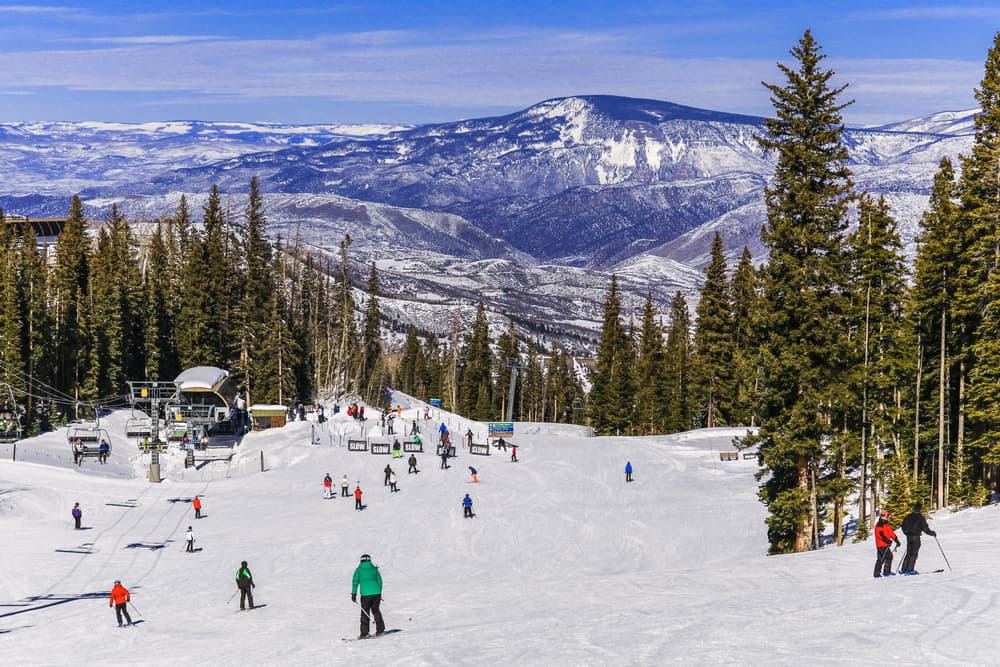 There is little doubt why it is named Summit County:
Four world-class ski resorts
Several 14ers
One of the primary headwaters of the Colorado River
An infinite quantity of alpine terrain
Summit County Ski Resorts are the home of some of the best skiing and snowboarding in the entire world. Skiers of all skill levels may find the equipment they need for their trip to Summit County ski resorts at Virgin Island Ski Rentals. Visit Summit County, CO for some of the most incredible skiing locations in the United States.
The Top Summit County Ski Resorts
If you're planning a ski trip or holiday, Summit County should be your destination of choice. Arapahoe Basin, Breckenridge, and Keystone are all close, while Copper Mountain is just a short drive away and are excellent Summit County skiing locations. Below are some of the best Summit County ski areas. Come visit us we're conveniently located in Silverthorne which happens to be no more than a half hour away from each resort.
At 13,050 feet in elevation, the peak of the Arapahoe Basin offers breathtaking views of the Colorado countryside. Native Coloradans refer to this area as "The Legend," and it's easy to see why: it has some of the greatest powder in the world and more than a hundred routes and bowls above timberline. With a season that extends from October to June, this area boasts one of the longest ski seasons in North America and welcomes skiers of all skill levels.
Breckenridge Ski Resort is a good Summit County skiing location. It is the most visited destination in all of Colorado and is a great place to spend a winter vacation. Five peaks totaling 12,998 feet in elevation provide 2,908 acres of skiable terrain. The resort has 187 trails for all ability levels, 25 acres of ski areas, excellent groomers, glades, and bowl skiing above the treeline. After a day of skiing or snowboarding, go downtown to one of the many bars and eateries. In Summit County, Breckenridge is the go-to for skiers and snowboarders because of its excellent terrain and exciting nightlife.
Copper Mountain is another excellent Summit County skiing location, and is the first superpipe to open in the United States every season, and is home to approximately 2,500 acres of gorgeous trails and a community area. Skiers of all abilities may find a challenging run to enjoy since the slopes in town increase in severity from west to east. To try out your freestyle skills at Woodward Mountain Parks, you may discover many different types of jumps, rails, and boxes. Resolution Bowl, Copper Bowl, and Spaulding Bowl are just a few of the several bowls skiers may enjoy.
If you're looking for the most skiable area in Summit County, go no farther than Keystone Ski Resort. There are three mountains and five bowls to ski, and you can send the family tubing at 11,640 feet at Keystone's Adventure Point. Snow tubing may be enjoyed here year-round, making this the only location of its kind in the United States. Daily events at Kidtopia include face painting, arts & crafts, and stargazing, and the park is also home to the largest snow fort in the world. Two gondolas transport visitors to various ski runs and dining options up the mountain. The Keystone Wine & Jazz Festival in July and the Keystone Bluegrass & Beer Festival in August are just two of the many fantastic local festivals that can be enjoyed in this beautiful mountain town.
Find The Best Ski and Snowboard Gear For The Colorado Mountains
Ensure you have all the necessary skiing equipment before heading to Colorado for the winter. With our extensive selection of demo skis, you can discover the perfect pair of skis for your ability level at Virgin Island Ski Rentals. Furthermore, a 10% discount will be applied to your total if you purchase online. If you have questions about Summit County or want to know more about our skis, don't hesitate to contact us. We want to contribute to an enjoyable and memorable vacation experience.
Image Source: LanaG/Shutterstock